[TL;DR]
At the top of 2022, I launched the $BUYBACK Crowdfund - a mirror campaign to raise funds to reacquire 7 back catalog albums from the labels that controlled them and to establish the governance membership of Mashibeats - a creator community I founded at the intersection of jazz, electronic music and web3. After a successful 12.3 ETH raise (approx $40k at the time), all funds raised were paid out to the respective labels, and all 7 albums have been reacquired and as such, are now foundational assets for Mashibeats.
$BUYBACK Emerald is phase two of the project with two goals: increasing the membership of Mashibeats governance and building community treasury funds to be deployed to specific proposed projects upon voting approval by the token holders.
This new initiative is being presented in conjunction with sound.xyz by way of 8 music NFT drops over the coming months, each 2-3 weeks apart, and every collected NFT entitles the holder to a $BUYBACK airdrop. 70% of funds raised will go to the Mashibeats community treasury, and 30% to me as the originating music artist.
Who Am I ?
I'm a musician, composer, producer, DJ, community builder, curator and web3 evangelist. As a musician, I've been recording, releasing and touring the world since 2000 and have had the pleasure and honor to collaborate with so many incredible artists over that time - Kamasi Washington, Pino Palladino, Masters at Work, DJ Spinna, Melanie Charles, Low Leaf, Eric Harland and countless more from the worlds of jazz clubs, DJ dancefloors and everything in-between. I'm part of the reason jazz musicians have an indelible presence in contemporary beat culture…
"Way before jazz hybridity became a worldwide phenomenon, de Clive-Lowe was busy designing its blueprint." - Jazziz
Over the past two years, my web3 journey has included the Motherland collection (a 43-minute audio-visual meditation and the first audio-visual album on the blockchain), the $BUYBACK crowdfund, drops on Catalog, Zora and Sound, founding Mashibeats to support like-minded creators as they journey into web3 (shout out Creator Club Season 1 alums!), and co-founding everwave - a music collaboration DAO and platform built on Solana. I've gotten to know so many amazing people in the space over the last two years, and continue to be inspired and excited by everything we've achieved so far, but even more so, everything that is still to come!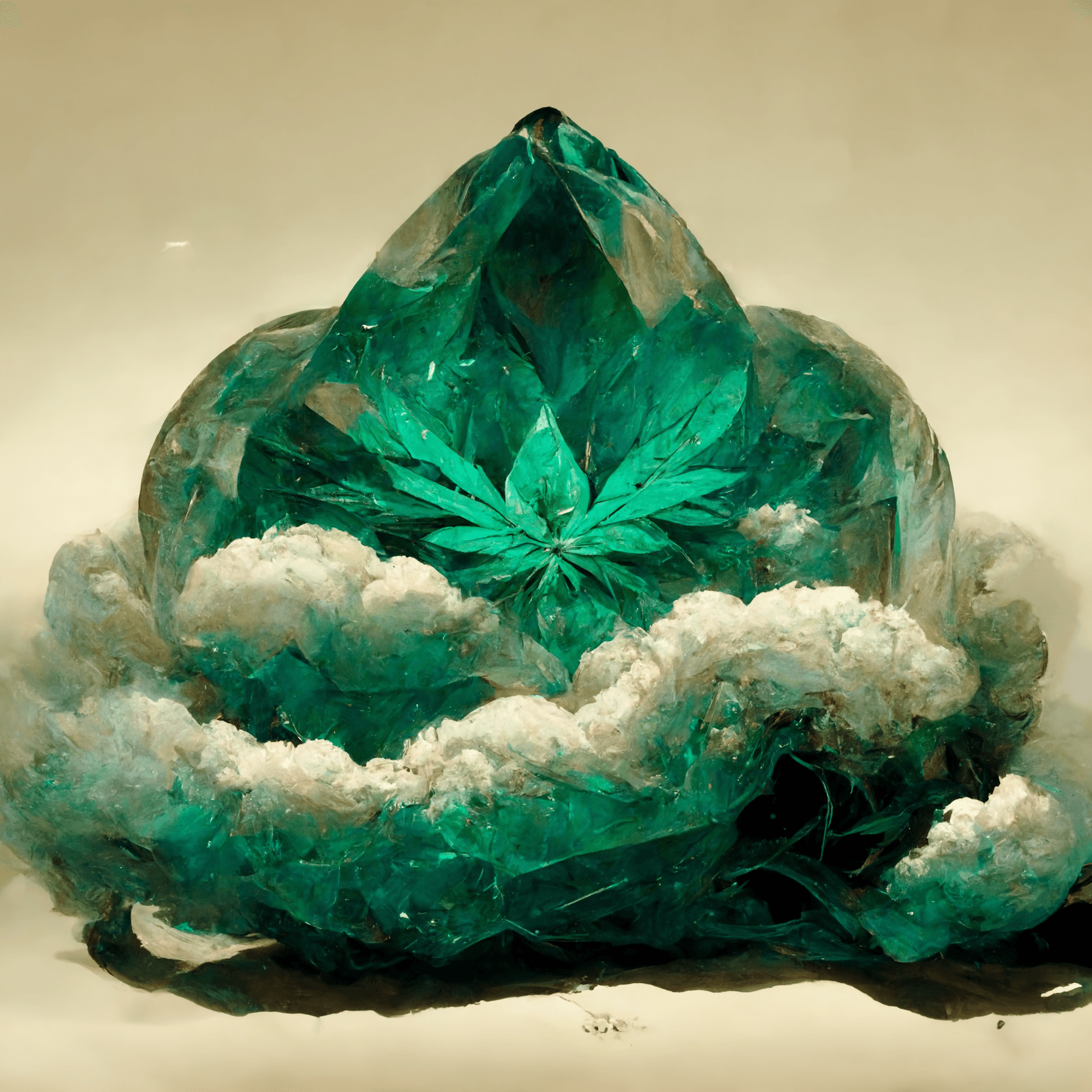 How does $BUYBACK Emerald x sound.xyz work ?
Sound has proven itself to be a paradigm shifter in web3 music, with a tooling that allows music NFTs in edition batches, complete with online listening parties and the support of a great community of creators and collectors.
There will be 8 individual drops on Sound for this initiative with 2-3 weeks between each drop, starting with the first on October 26, 2022 at 2pm PST. Essentially each subsequent drop is more valuable than the previous in several ways:
The first drop will be an edition of 32, priced at 0.03 ETH, with each subsequent drop offering less editions and a +0.01 increase in price, finishing with drop #8 which will be an edition of just 10, priced at 0.1 ETH, for a total of 148 editions across the entire 8 drops.

Each subsequent drop will also be connected to a larger $BUYBACK airdrop, starting with an airdrop of 35 $BUYBACK per NFT collected for drop 1, scaling up to 70 $BUYBACK per NFT collected for drop 8. Relevant amounts of $BUYBACK will be airdropped to collectors holding each NFT at the time of snapshots on 12/1/22, 2/13/23 and 3/20/23.

Each drop has a Golden Egg - one holder of each drop that has sold out will be the Golden Egg recipient and be gifted an IRL mounted canvas of the NFT cover art! We're working on something extra special for collectors who hold all 8 NFTs that will be dropped 👀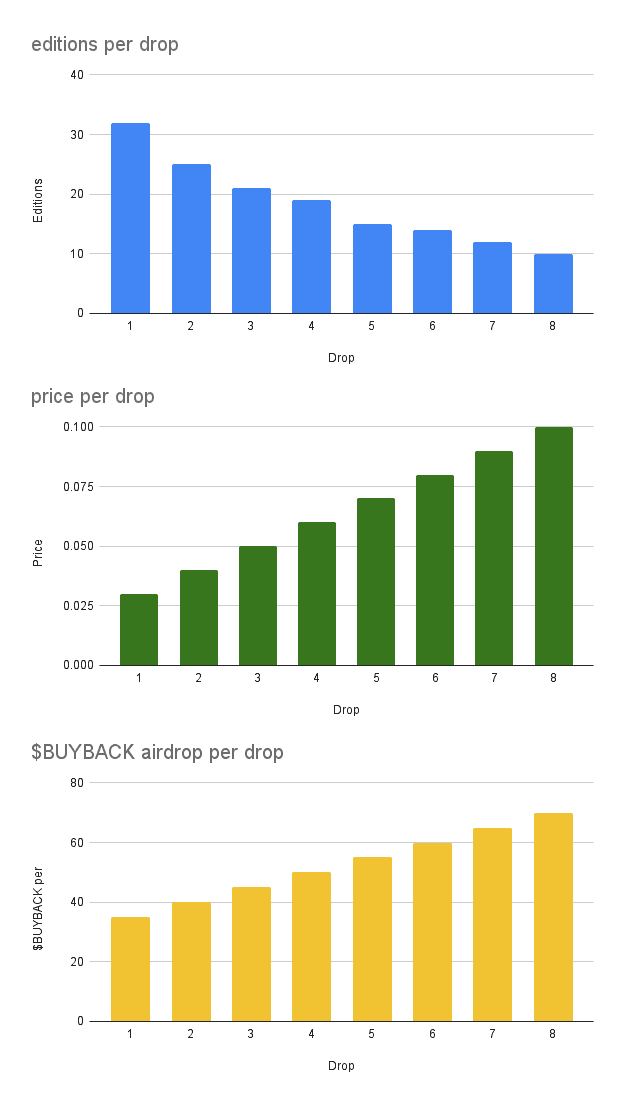 eg, a collector collecting one NFT of each drop x 8 drops would not only own 8 new music NFTs, but also be able to claim 420 $BUYBACK tokens representing governance in Mashibeats. By collecting two of each drop, that would multiply to 820 $BUYBACK tokens and so on, with a max cap of 1500 $BUYBACK per wallet address. A total of 7,160 tokens are allocated to this initiative which is 29% of the full supply.
Current $BUYBACK token holders and supporters of my previous Sound drops will get automatic presale whitelist access to each drop, along with members of any communities we may partner with. This is both an opportunity for existing $BUYBACK holders to increase your voting power in Mashibeats and support the treasury goals, as well as for new supporters to join the governance membership. People have asked "how do I get $BUYBACK?" and finally we have an answer!
➡️ Once you collect a drop from the series, go to the token-gated site where you can optionally register your personal info with us and tap in with our discord.
The utility is the music… and more ❤️
I'm a huge believer in music NFTs' utility being the music itself. Akin to collecting white label test-pressings or private press vinyl back in the day - but with all the added benefits and bonuses that on-chain data provides.
In this case, we're combining this series of music NFTs with two intended goals:
to grow the active governance membership of Mashibeats: the most recent call-to-action for current $BUYBACK holders was voting on the winners of our first remix contest, which resulted in NFTs on Catalog and an IRL vinyl EP release. There'll be more similar CTAs as well as proposals for treasury spending/projects that will be approved or denied by $BUYBACK holders based on quadratic voting via snapshot.

to grow the community treasury of Mashibeats: the treasury can potentially gain up to 5.6 ETH from this initiative and we all know that so much can be accomplished with this funding. Every music NFT collected gets us a step closer to this goal and we're already excited about the possibilities that may be facilitated… IRL Mashibeats Creator Camp anyone ? 👀
Wen sound.xyz drop ??
• Drop 1 [Smoked Something] - October 26, 2022 / SOLD OUT
• Drop 2 [ESSS (Love the Space)] - **November 9, 2022
**
• Drop 3 [Blue Hour] - November 30, 2022
• Drop 4 [37,000 Feet (MdCL's Sonkei remix)] - December 14, 2022
• Drop 5 [Joyful Resistance Part I] - January 11, 2023
• Drop 6 [Joyful Resistance Part II] - January 25 2023
• Drop 7 [Crush Velvet] - February 21 2023
• Drop 8 [Better Days] - March 7 2023
We will hold twitter spaces for each drop - tap in with me to keep in the loop…
#savethedates for all 8 drops…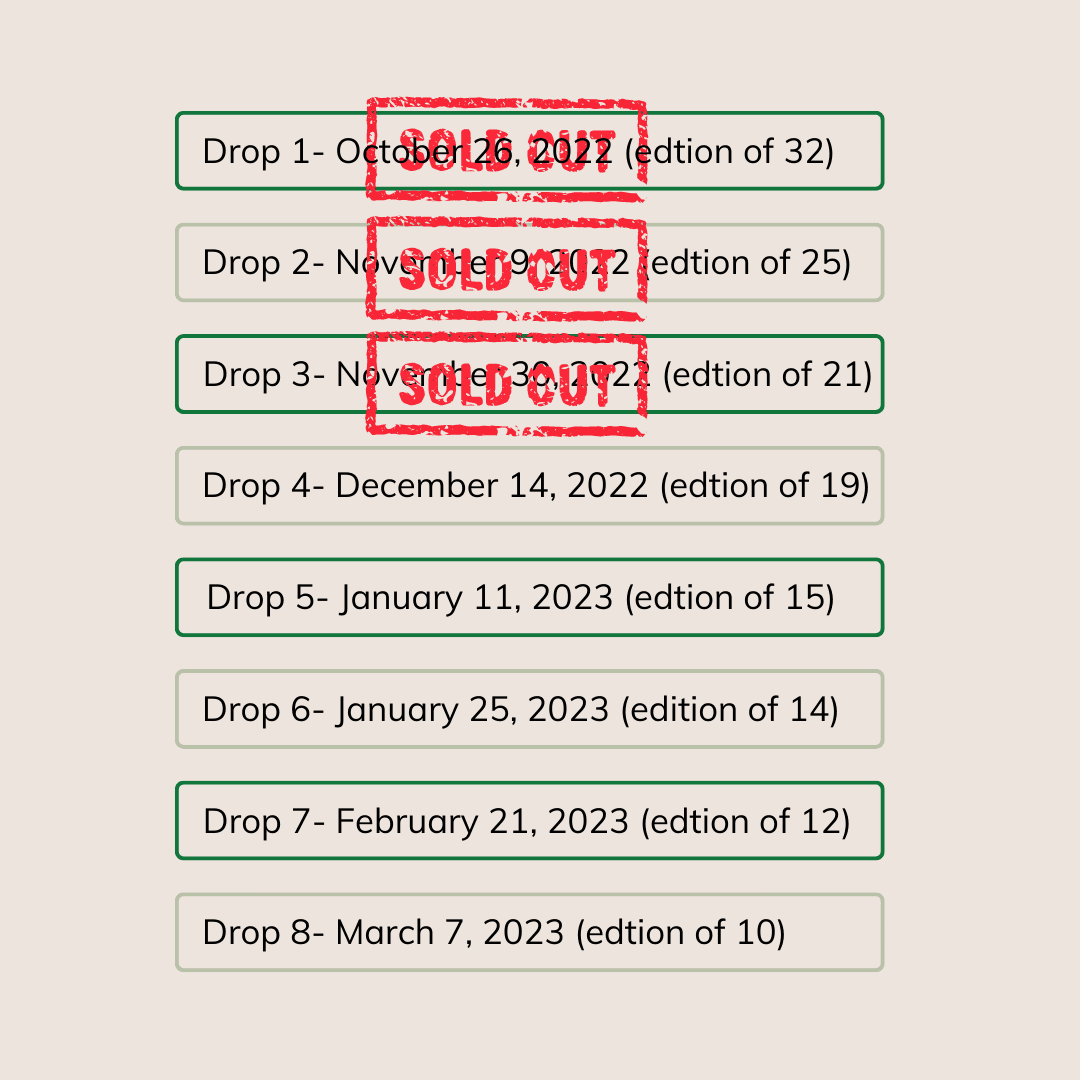 **
NOTE:** $BUYBACK tokens will be airdropped to you after snapshots of all collectors to be done on 12/1/22, 2/13/23 and 3/20/23. Your $BUYBACK Emerald coin NFT will be available for free mint at that time as well.